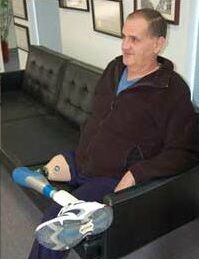 It all started about 12 years ago. I was a collision repair worker all my life until one day I came home from work and got in the shower. As I grabbed the bar of soap my right arm just went limp, and the pain felt as if my arm were in a vise.
After being rushed to the hospital, I had emergency surgery to remove a 10″ blood clot from my arm. Vascular Disease had set in, and it was clear I had to make some lifestyle changes, like quitting smoking and taking a blood thinner.
Even after these changes, as years passed, I always had pain in my legs. One day, while I was walking, the pain in my right leg became so bad that I had to stop. I had another clot and a bypass was done, which was the first of many on the right leg. One Mother's Day my right foot went limp and again I experienced extreme pain.
After an unsuccessful bypass I had my right leg amputated below the knee. Shortly after the surgery my leg became infected. After two months in the hospital unsuccessfully attempting to save the leg I became an above knee amputee, and through the clinic at New England Sinai Hospital (Read about our affiliated clinics and facilities) was introduced to Greig Martino, from United, who made my new leg. After some therapy Greig made me a new C-Leg, which is a state-of-the-art computerized leg made by Otto Bock.
However, after many sessions of therapy I was going nowhere. My left leg kicked up and I eventually needed several bypasses in that leg. What a letdown. But I was strong, kept my chin up and said to myself, "I am going to walk". After seeing Greig one day and telling him how unhappy I was with the way things were going, he told me to come to the Braintree office and he would work with me.
Well, while working with Greig, I went from a regular walker, to a walker with wheels, to a set of Lofstrand crutches. In a very short time I was able to walk with only two canes. All I can say is United Prosthetics is #1 with me. The staff is very helpful and kind, and will do
Thank you United, and a special thanks to Greig who has become a special friend to me, and is like a brother that I never had.whatever it takes to get things done. Without this company, and the people at the company, I would still be in a wheelchair.
Thanks again, Vinnie D.