Founded in 1914 By Philip Martino and his vision of excellence, United Prosthetics maintains the same high values of patient care and service today. Originally United Limb and Brace, Mr. Martino specialized in both prosthetics and orthotics and developed an affinity for patients' needs. Philip Martino was a pioneer in a mostly ignored medical area, and was driven by the fact that his work positively affected the lives of his patients. His commitment laid the foundation for United Prosthetics, Inc. as it exists today.
We have undergone many developments in our long history, and the following is a brief account of some of the more notable events. The quoted paragraphs below are excerpts from the May, 15 1999 issue of O&P Business News, which provide a glimpse into the formative years of United.
"United Prosthetics, Inc., Boston, Massachusetts, was originally the United Limb and Brace Company. Its founder, Philip Martino, immigrated to the United States from Italy to work for relatives in the shoe repair business. Searching for more challenging work, Martino obtained employment at a prosthetic facility in Boston. He developed into a talented prosthetist, which did not go unnoticed, especially by two of his patients- both bilateral (left and right) transtibial (below knee) amputees. Philip and these two gentlemen were the founding partners of United Limb and Brace in 1914.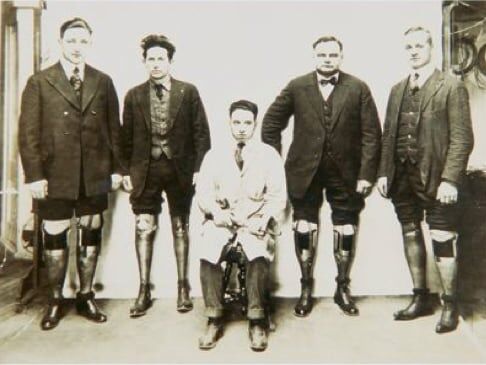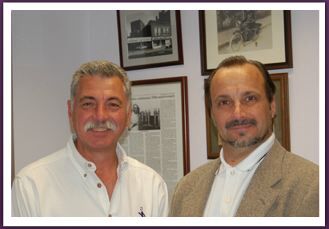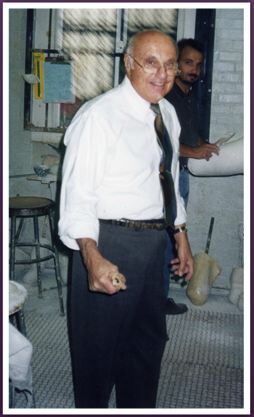 In 1916, the War Department assigned the first of many contracts to United Limb and Brace to manufacture and fit prostheses for World War I veterans.
Philip Martino went on to pioneer various configurations of prostheses. He held two prosthetic patents: a soft-back cushioned socket for transfemoral (above knee) amputees and a spring-assisted slip socket for transtibial amputees.
United Limb and Brace grew into a family-run business when Philip's son, Joseph, became a member of the staff. Since Joseph had always shown an interest in his father's business, it was no surprise that he immediately joined him at United when he finished his 35 missions with the Army Air Coprs in 1945. Joseph attended courses at New York University, Northwestern, and UCLA. He then became the 95th certifee of the American Board for Certification in Orthotics and Prosthetics (ABC) and felt very honored to have been among the first 100 certifees…
"The company continued to grow with the introduction of the third generation of Martinos. Paul, Mary, Greig, and Gary followed in their fathers' footsteps and work for the company today as practitioners, technicians, and support staff. In 1972 United Limb and Brace was incorporated and adopted the new name of United Posthetics, Inc."
It was during this period, under the leadership of Joseph Martino and the management of his children, in which the company experienced its most notable growth. Many of the long term relationships that we currently have with hospitals, rehabilitation centers, and nursing facilities were forged during this time.
To accommodate for the increased production demand, the company moved to a 10,000 square foot facility on Columbia road in Dorchester where it currently resides. In 2017, we moved our second location to the Crown Colony Medical Park in Quincy, which provides 5,000 square feet of state-of-the-art patient care space. This location allowed us to better meet the needs of patients who live on the South Shore, Rhode Island and Connecticut.
Paul, Mary, Greig, and Gary are still involved in the operations and day to day management of the business and were joined by a fourth generation, Christopher Martino, in 2006. The Martinos continue to take pride in serving the needs of their patients and the entire limb loss community, and look forward to the opportunities ahead as they continue to grow the business.
We proudly continue our long tradition of patient service and superior products as we move into an age of rapid technological advancement; making every effort to provide the patient the best means to an improved lifestyle.